Contact & How to find
Contact form
How to find and direction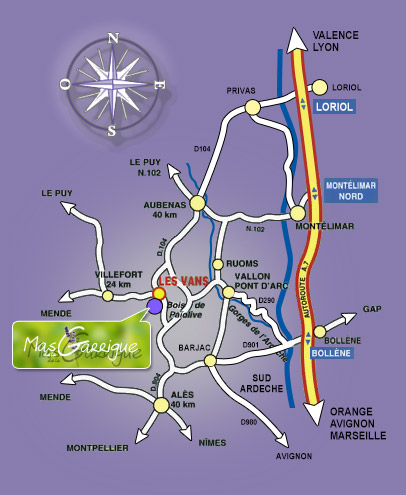 Railway
TGV : Valence (26), Montélimar (26), Nîmes (30), Montpellier Saint-Roch (34).
For bus connection please contact Ginhoux Voyages: +33 (0)4 75 39 40 22 or +33 (0)4 75 35 69 90.
By car
From the North:
A7, exit Loriol, D104 direction Privas, Aubenas, Joyeuse, Lablachère, Les Vans.
From the South:
A9, exit Nîmes west, N106, direction Alès.
At Alès take the D904 direction Aubenas.
After Saint Paul le Jeune take the D901 direction Les Vans.
When you are in Les Vans:
Take the roundabout direction Alès, pass by the Gendarmerie (right side), take another round about direction Alès, pass by the cemetery (right side).
In a bend approximately 50 meters after an advertising panel for swimming pools you see our information sign Mas de la Garrigue.
You turn right and you follow the small street on the top of the hill (not even 2 kilometers).
You are now already on the Chemin de la Transhumance and 500 meter ahead you see our house.